September 1 fishing report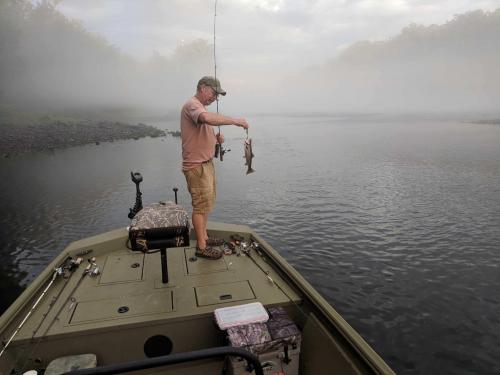 Overall, this has been a very good summer for trout fishing here on Lake Taneycomo.   Taneycomo's water temperature has risen a degree to 50 and still is very clear.  We've seen periods of cooler days where generation is short and lessens in the afternoons and hot days when the flow starts about 1 p.m. and runs up to four units until late into the evening.  The dissolved oxygen in the water varies widely, but in general has been very good.  We bought a D.O. meter so we could keep an eye on the levels and have found readings between 5.9 and 9.1 p.p.m. which is great!
Here's an article I wrote describing what changes our tail water goes through each fall season.
The United States Geological Society performs a test at each of the U. S. Corps of Army Engineers' lakes in our area once a month from July through December.  The August profile just came out.  It measures temperature and dissolved oxygen at different levels of the lake at the dam face.  You might find this interesting.
Note:  Taneycomo's water comes from 130 feet deep in Table Rock, and the house units gets it water from at 150 to 160 feet deep.  House units are running anytime the turbines are not, so the water you see at that level is what's running into the upper lake.  This explains why the dissolved oxygen level drops when the water isn't running, especially at night when the water doesn't get any help from the sun.
The house unit powers only the powerhouse itself.
Big winter and spring floods affect the water flowing from Table Rock Lake, not just for the current year, but the following year, too.  We are one  year out  from the last flood, so this fall we could see warmer water temperatures than normal.  Cold water holds oxygen better than warm water, so we also might see our cold water fish stress easier.  This does affect fishing, but more than that, it affects catch-and-release survival rates. That means we need to be even more mindful about how we handle trout caught if they are to be released.  I need to write an article on handling trout . . .  I'll work on that.
All that said, I believe this is going to be a banner fall season for both rainbows and browns.  We are already seeing large browns in the trophy area as well as very good quality rainbows being caught mid-lake.
In our fishing tournament this last Saturday, we saw more good quality rainbows weighed in than we've ever recorded in a summer tournament.  Looking at the leader board, I can count 10 rainbows that topped three pounds. Plus the rainbows in the winning bag that were not weighed individually could have added two or three to that category.  None of these rainbows were recently stocked as "broad stock," although some broads have been stocked lately by the hatchery.  And this is not counting the large rainbows and one brown caught the previous two days by anglers fishing before the tournament.
All of these big trout were caught below Fall Creek, out of the trophy area.  A good number of these were caught below the U.S. Highway 65 bridge.  We do not have details and on how each trout was caught, but  they were caught in multiple ways.  Most, I think, were caught trolling using spoons and crank baits.  Others were caught on the pink worm/jig head under a float, throwing stick baits and casting jigs.
Swing Oil Baits is a one-man operation owned by Frank Dietl of Washington, MO.  He and his partner, John Hittler, of Hillsboro, MO, won the benefit tournament on Saturday.  Frank makes a soft plastic worm just like the Berkley pink worm that we plan to sell in our shop.  He caught at least one of big rainbows on his pink worm.
I personally haven't  fished down lake as much as a lot of tour tournaments anglers, but their time there has truly paid off, as witnessed by the big trout caught down there in the past couple of years.  It's bigger, deeper water, so there's more places for fish to hide.  Rainbows aren't known for holding around structure, but I think they do tend to be found in and around docks. Browns, on the other hand, are structure fish, lying in wait for something to swim by.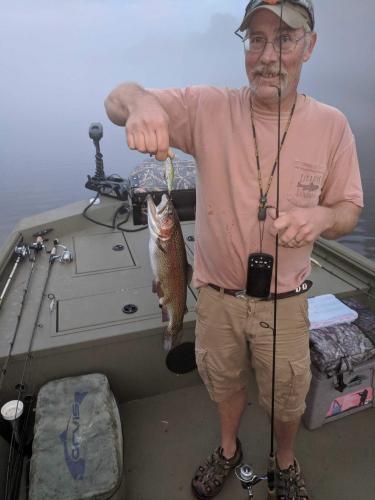 On bright, sunny days, wind is almost always the key to the bite.  The last few days, I have fished about 10 a.m. to net a few rainbows for a "fish- weighing experiment."  I hope to improve the way we weigh our trout at tournaments.  I've been running up lake about a quarter mile to where the wind starts to come around the corner from the southwest and I find feeding rainbows under the surface at about five feet deep.  I'm using my fly rod, throwing a two-fly rig with a #14 green zebra midge, gold head and wire, and a #16 red zebra midge with a gold head, gold wire, fishing it under a float five feet deep.  I'm using Rio 6x tippet.  The take is aggressive -- and I've caught four trout in less than 30 minutes.
I know that they will take a small micro jig or marabou jig under a float, too.  Try the same setup with two-pound line and a sculpin or ginger micro jig or a 1/100th-ounce brown or sculpin jig with an orange head.  Using two-pound line is essential, too.  I use Trilene XL clear two-pound line.
If you want to throw a jig, we're still doing well using a 1/32nd- or 1/16th-ounce, sculpin/ginger or brown/burnt orange jig and two-pound line,  catching a lot of rainbows in our area of the lake.  This setup is best to use early and late in the day, or mid-day if the wind is up. But if you're throwing it in wind, cast directly against or with the wind.
The lower trophy area has a lot of trout right now.  There's some good-sized rainbows, but most are in the smaller range - less than 14 inches.  These trout seemed to be pretty smart and are accustomed to natural foods such as small minnows, sculpin, midges and scuds.
Our brown trout make a ceremonial run up the lake in the fall for spawning.  I say "ceremonial" because they don't actually have a successful spawn.  Our lake conditions aren't right for either the rainbow or brown trout to reproduce.  But they do move up close to the dam in September, lingering for a couple of weeks before they head back down.  This spawning season tends to last into the first week of November.  The main rainbow spawn overlaps just a bit into the brown spawn and continues on into January.
It does seem like sculpins are a big part of brown trout's diet these days.  When catching browns this spring and summer, some would spit up a sculpin or two when in the net.  I know the walleye and bass are living off sculpins just below the dam , plus small rainbows.  So throwing jigs and sculpin flies should do the trick when fishing for browns this fall.
Guide Steve Dickey has observed that we've haven't had the big midge hatches like last summer.  One reason, I know, is the lower water temperature.  Last summer, the lake temperature never dipped below 55 degrees.  Insects do much better in warmer water.  This year the temp has been in the low to upper 40's.  But trout are still keying in on midge flies like the zebra, wd40's, soft hackles, cracklebacks and chili peppers.