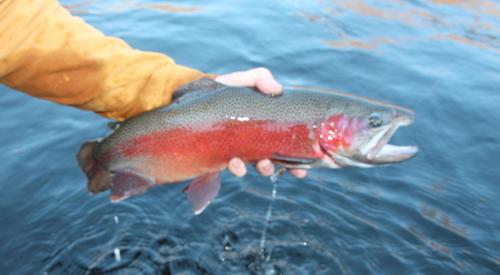 It's been a "kind" autumn this year.  Our water quality hasn't tanked like in past years, which normally causes the fish in Lake Taneycomo to become lethargic.  The water in Table Rock Lake typically stratifies during the spring and summer, forcing low-oxygenated water to the depths where Taney gets its water through the dam.  Because of high water and flash flood events in the past, tons of bio material (wood and leaves) were washed into the lake, causing even more "damage" to the water near the bottom.  That also adversely affected our water quality.  Fortunately, we have had no floods this year!!  Praise the Lord!!!
The end of these seasons are marked by what we call "Table Rock turning over." This is when surface water on Table Rock cools and becomes colder than the water below it.  Eventually, a majority of this surface water cools down enough that it causes a flip --- the water on top sinks down, forcing water towards the bottom up to the surface.  In time (usually a week or more) all the water mixes and becomes uniform.  The water at the dam inlet (130' deep) improves to the point the U.S. Corps of Engineers doesn't have to add any liquid oxygen before it passes through the turbines which lifts the restrictions on how much water can be run.
We are at the end of that season.  As of last Friday, Table Rock's water has mixed to the point that the water coming into Taneycomo measures 3.45 parts per million, up from <1.p.p.m.  When this process starts, it continues until the water is fully mixed.  As I type this report, I suspect that 3.45 reading has gone even further up and will continue for the next week or so.
The bottom line is that it's an exciting time for our Taneycomo trout, because their water has improved.  It's like they've been living on the top of a high mountain for three months and now have been brought down to sea level where the oxygen is much better.  They should be much more active.  It's an exciting time for us fisher people, too.  It means "catching" should improve, not that it's been that bad this fall.
Compared to other times of the year, fishing pressure has been very low these past few weeks, except for the wading area below the dam.  This means stocker rainbows have been left to live and grow in the lake with less chance of being bothered by someone with a hook and line.  Our trout seemed to be spread out through the upper lake, too.  There's good concentrations of rainbows almost everywhere between the Landing and Table Rock Dam.  So I'd say there's no "hot spots" to report, only that catching is good in most places right now.
The generation pattern has changed.  Since last Friday, dam operators have been running water around the clock, anywhere from 35 to 75 megawatts, which is really not a bad flow.  It's not too fast to make fishing off our dock tough.  You can get a good drift if you're fishing from a boat, but it does make wading below the dam pretty tough, although not impossible.  Not sure how long this will continue, and I don't know if there's a reason for it either.  It just is . . .
We been catching some really nice rainbows this week fairly close to our dock.  I've caught two rainbows throwing a jig within sight of the dock weighing more than two pounds, and measuring 18-19 inches long.  Plus I've caught other rainbows all colored up and looking healthy in the 13-to 15-inch range, along with a couple of browns in the 14-to 15-inch range.
We've been throwing the sculpin color with or without another combo color (ginger, burnt orange, olive, red) straight, no float, using either two- or four-pound line.  If we're throwing an 1/8th- or 3/32nd-ounce jigs, we're using four-pound line and throwing smaller jigs using two-pound line.  White/gray jigs are working pretty well up lake in the trophy area, according to Duane, who's had a few guide trips the past couple of weeks.  Most of the fish I've been catching have come off the bottom rather than when working the jig higher in the water column.
If you're out in a boat and drifting bait on the bottom, with such slow current, you should pay close attention to the amount of weight you're using to get the bait to the bottom.  It's much better to have less than more.  Only use enough weight to get the bait to the bottom, even if it takes a while to sink.  Too much weight will do two things - - you will get snagged up much quicker and the heavier weight will make feeling a bite much harder.  If you're using drift rigs, use the smallest weight, and if that weight is too heavy, break it off, tie a simple knot on the end of that line and pinch on a small split shot.  The knot keeps the shot from sliding off the end of the line.
Night crawlers will catch bigger fish, but Powerbait catches fish, too.  Using PowerEggs, pair a white egg with another color (pink, orange or chartreuse).
Cleos and other spoons are doing pretty well.  I watched a group in one of our pontoons the other day throwing Cleos just up from our dock, and they caught quite a few rainbows.  The bites should be much better if there's some wind/chop on the water.  And Cleos are easy to use, especially in wind.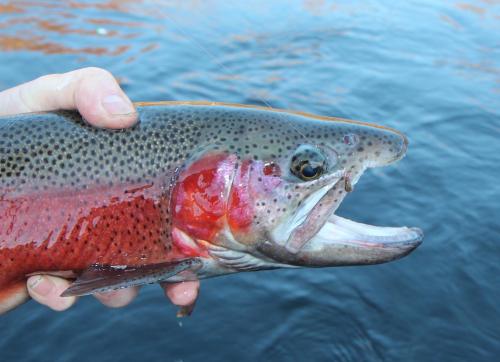 The pink Berkley's Powerworm is still catching rainbows.  Under a float anywhere from four- to eight- feet deep depending on how bright the day is.  Under a bright sun, fish them deeper.  With choppy/cloudy conditions, fish them closer to the surface.
If you go up in the trophy area.  You'll see gobs of bugs come out and float around.  Most of them are sow bugs.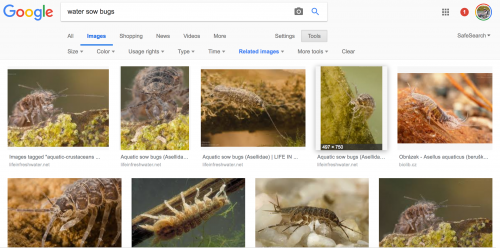 Trout do eat them, but they're not high in protein like freshwater shrimp or scuds.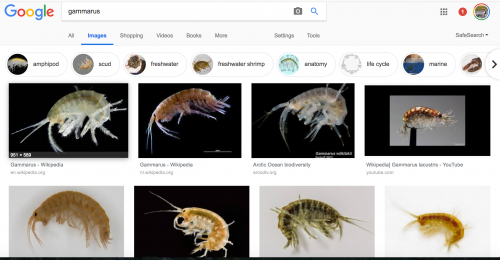 Both are in abundance right now, so that's the fly of choice to use.
Fly rod - the best color lately has been brown, but you can see from these images that they can be several shades of olive, beige, brown and gray.  Sow bugs are almost always gray.  Fish them under an indicator and make sure they're on the bottom because that's where they live.  For spin cast rig, fish them under a float.  You may have to use a tiny split shot to make sure they get down, although the scuds we sell in our shop are weighted.  Best tippet size right now is 6x.
Midges are working fairly well but not half as good as a scud.  But if there's a chop on the surface and trout are rising to midges, strip a crackleback or a soft hackle.