2018 Masters Tournament a Success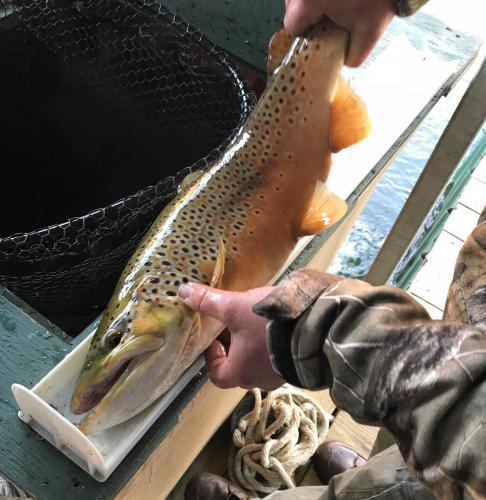 We were again blessed this year with fantastic weather for the Masters Trout Tournament, our first public contest of the year.  A record 48 teams competed for cash, pride and unique, custom plaques made by Lilleys' Millworks.
Generation:  The U.S. Corps of Army Engineers ran an unusual 10 megawatts of power -- less than 1,000 cubic feet per second of water -- all weekend.  I say unusual because I don't ever recall that small of an amount of water running constantly for that period of time.
Weather:  Sunny and a high of 65 degrees.  That's a far cry from 8 degrees below zero just a few days ago.  It was a little breezy, too.
The Missouri Department of Conservation stocked on Friday afternoon,  releasing a bunch of nice fish down at the boat ramp where the stocking boat is kept by the Branson treatment plant.  Some of the guys witnessed the stocking and word got around . . . drawing a crowd Saturday morning.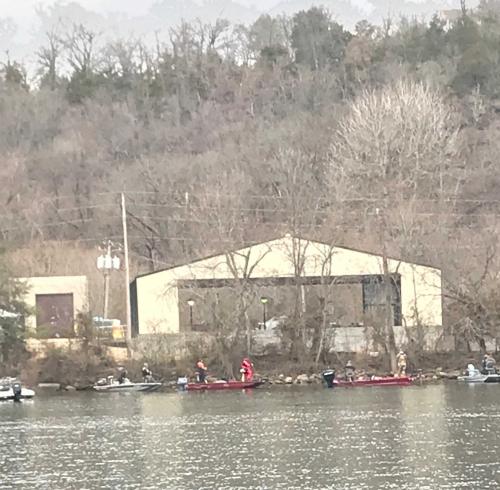 Most of the anglers said they caught a lot of fish Saturday with jigs, jerk baits, spoons.  It was an artificial only, catch-and-release tournament, so no bait could be used.
At weigh in, I saw a lot of bigger stockers.  The team who won had a keeper brown that weighed 5.8 pounds, but they also had some decent rainbows.  Jeremy Hittler caught the brown on a stick bait early in the morning.  He caught it below the resort . . . somewhere.
The other three winning teams all had above average stockers mainly.  Rainbows being stocked right now are in spawning mode, and the males are heavy.  
Bill Babler guided Saturday morning up in Roark Creek to the ice.  He said his two clients caught 90 trout on the pink Berkley's worm.  The trout he cleaned averaged about 11.5 inches -- nothing special.
Anglers who stayed over and fished Sunday said that as good as the fishing was Saturday, it was much better Sunday.  They said the bigger rainbows were hungry!  Some fished up above Fall Creek and reported catching rainbows from 14 to 19 inches on small pink jigs under a float.  
Winners of the tournament: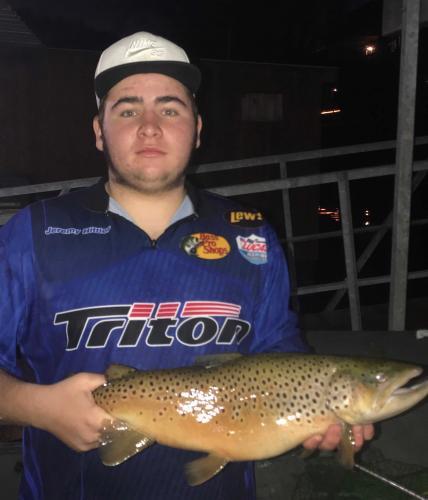 Jeremy Hittler has fished our trout tournaments since he was a youngster.  Now he's showing up his dad, John.  This was the big fish of the day, a 22-inch brown caught on a stick bait.
Jeremy Hittler and Gregg Mulitsch took first place with 11.82 pounds.
Alex and Ken Hathman took second with 10.72 pounds.
John Hittler and Frank Dietl, last year's champions, took third with 9.40 pounds.
Nick and David Whiteman took fourth with 9.10 pounds.
First place plaque with all of the past winners of the Masters Trout Tournament.