2018 Elfrink - a tough one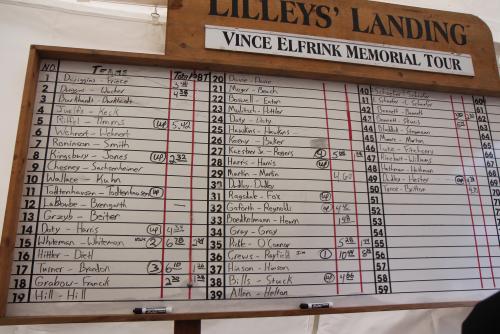 The board tells is all.  Tough fishing.
This is the toughest water conditions we've ever experienced for a tournament. Three inches of rain last night and about 2 inches today.  Lightning chased them off the lake about 1:30 - 2 pm.  But it cleared off and fishing picked up, especially uplake close to Fall Creek where the water was clearing.

Duane said we had 8 inches of visibility at 8 am. They ran 1700 cfs all day so it pushed the dirty water down, until the rain came again and it dirtied back up again but not as bad.

We had 50 teams sign up but I think 4-6 teams either cancelled or had issues getting started. Out of those that did start, 9 are fishing "UP" which means they headed for clearer water above Fall Creek. They're restriction is that they can only weigh in rainbows under 12 and 20 inches and over. Browns of course have to be over 20 inches.
The winning fish was caught on a jig below the Branson Landing... it's the only bite Jim had until late in the afternoon.  They weighed in 4 trout.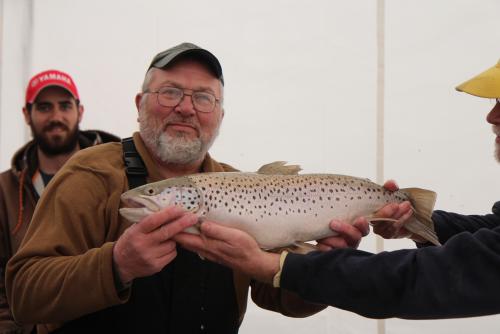 25 inches.  8.36 pounds.  They kept it in good shape and it was strong when we released it.
Yes it was a triploid.
Winning rainbow was a 2.34 pound trout caught by Nick Whiteman.